It gives me great pleasure to invite you to participate in a 7 day intensive Dhrupad workshop with the Gundecha Brothers, organized by Saṃgitarasikā, a new born project for the promotion of indian music in association with Dhrupad Sansthan Bhopal (India).
This full-time residential workshop will be from 11th to 17th June. It will be held in Cal Paradet, a comfortable country house in Maians, Castellfollit del Boix which is about 40 minutes by car from Barcelona. (Public transport is available.)
Umakant, Ramakant, and Akhilesh Gundecha will conduct the workshop. The Gundecha Brothers are recognized as being among the foremost exponents of Dhrupad. They travel around the world performing and teaching this ancient form of Indian music.
Dhrupad is the most ancient style of Hindustani classical music. It survives today in its original form. The nature of Dhrupad music is spiritual, seeking not just to entertain but also to induce feelings of peace and contemplation in the listener. The word Dhrupad is derived from dhruva the steadfast evening star that moves through our galaxy and pada that means mark, trace, and in this case one kind of poetic verse. It is a form of devotional music that traces its origin to the ancient text of Sāma Veda.
Anyone who is interested in this kind of music and research with sound is welcome to participate. No musical background is needed. The workshop is open to vocalists, percussionists and instrumentalists.
The workshop schedule consists of group classes, master classes, group practice, kharaj practice, yoga and prānāyāma sessions, musical lectures, Q & A, discussions-interactions, walking, recreation and group cooking.
The workshop schedule is given below.
Accommodation and food for the participants are arranged at the venue of the workshop in Cal Paradet. The food will be vegetarian. Shared accommodation will be provided to the participants (2-4 persons room).
Cal Paradet is a cozy XVII century perfectly preserved farmhouse located in the heart of Catalonia, between Igualada and Manresa, 60km from Barcelona.
The house is situated on a hill, surrounded by gardens, Mediterranean pine forest, almond trees and plantations of wheat. Internet access is available; there is a spacious barbecue area and swimming pool.
The cost of teaching and accommodation for the whole workshop is 500 euros if you book before 30th April 15th may. After this date it will cost 550€. A non-refundable deposit of half of the fee is required in advance. Priority will be given to those who whish to participate for the whole seven days. It may however be possible to attend for a shorter time (please contact for more details about this option).
For booking and further information please reply to eulalia.cuxartbenas@gmail.com For information about Dhrupad Sansthan Bhopal visit http://www.dhrupad.org.
On the 19th June there is a lecture-demonstration followed by a concert with the Gundecha Brothers. This will be in the Conservatori Municipal de Música
de Barcelona. You are warmly invited to attend this event for which there
is no charge. Please check Conservatory's webpage for more details: http://www.cmmb.cat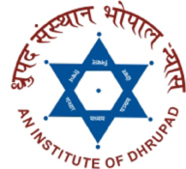 DHRUPAD SANSTHAN
(An International Residential School of Music)
Accreditation under UNESCO's Intangible Cultural Heritage Committee
Empanelled Under ICCR Scholarship Scheme
Affiliated with USIEF (United States-India Educational Foundation)
dhrupad.sansthan@gmail.com
dhrupad.org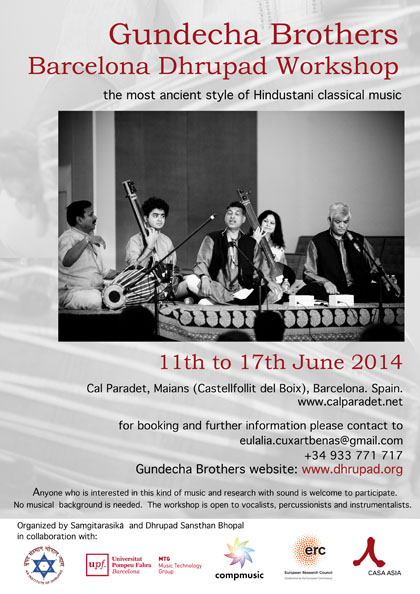 Schedule 
5:45/6:45 kharaj (early morning lower notes practice – optional)
7:00/8:00 Time for different morning practices, such as yoga, meditation, prānāyāma, walking meditation, etc. (also optional)
7:30/8:00 Preparing Breakfast (kitchen group)
8:00/9.00 Breakfast
9:00/10:30 Group class & Lecture – Voice culture, composition and ālāp learning in various rāgas, tāla and laya Practice
10:30/13:30 Individual classes
12:00 Preparing lunch (kitchen group)
14:00 Lunch
15:00/16:00 siesta and relaxing time
16:00/17:00 tāla class
17:00/20:00 Individual classes
18:00 Preparing dinner (kitchen group)
20:30 Dinner
21:30 Time for sharing and discussion.