The Citation of Sanskriti Award:
"The importance of the Gundecha Brothers – Umakant and Ramakant – to Hindustani classical music is not that they belong among the few though rising number of those who have made the art of Dhrupad their vocation but that they exhibit a certain state of the Art quality in the style of their performance. This is firstly their vocalism which is strong, resonant and exquisitely shaped for time and tension, and than their concert technique that mashes with each other so perfectly that their combined presence on the stage is not of two singers but of one Raga and one song. This is a subtle evolution of the art in the Jugalbandi format, which the brothers have developed.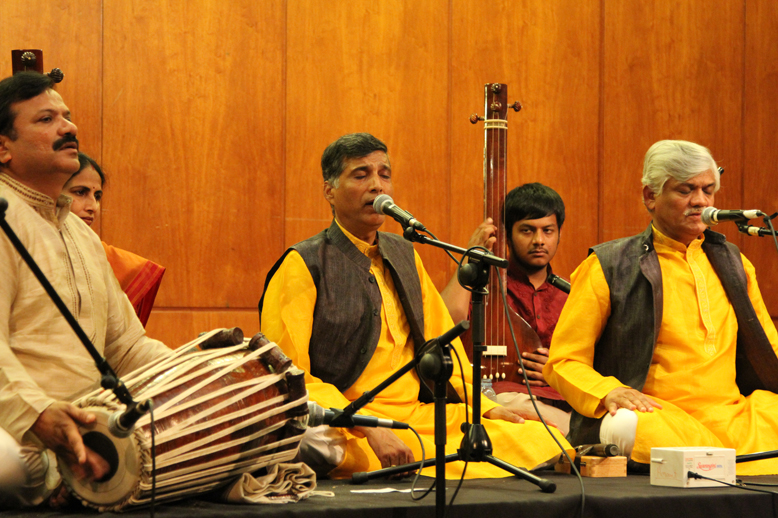 Born in the fabled city of Ujjain, Umakant studied in Madhav Music college and took a post graduate degree in Music and Economics and Ramakant did the same in Music and Commerce.
They studied Dhrupad at the Dhrupad Kendra of Bhopal from 1981 to 1985 under he great Dagarvani Maestro Ustad Zia Fariduddin Dagar and Late Ustad Zia Mohiuddin Dagar. The Brothers are striking examples of a highly successful transmission through the Guru Shishya Parampara.
The Gundecha Brothers have been recipients of the Madhaya Pradesh government scholarship and the National Fellowship of the Government of India. Today the bothers represents the leading edge of younger generation of Dhrupad singers of Hindustani Classical Music."
Awards and Fellowships
M.P. Govt. Scholarship from 1981 to 1985
National Fellowship from 1987 to 1989
Ustad Allaudin Khan Fellowship in 1993
Sanskriti Award in 1994
National Kumar Gandharva award by M.P. Govt. in 1998
Dagar Gharana award by Mewar Foundation in 2001
Governor's Citation from Maryland, USA
Rajat Kamal – National Film award in 2006
Puttaraj Gawai Award 2010 from Puttaraj Gawai Pratishthan, Dharwad
Padma Shri award by the Government of India 2012